Joining the school business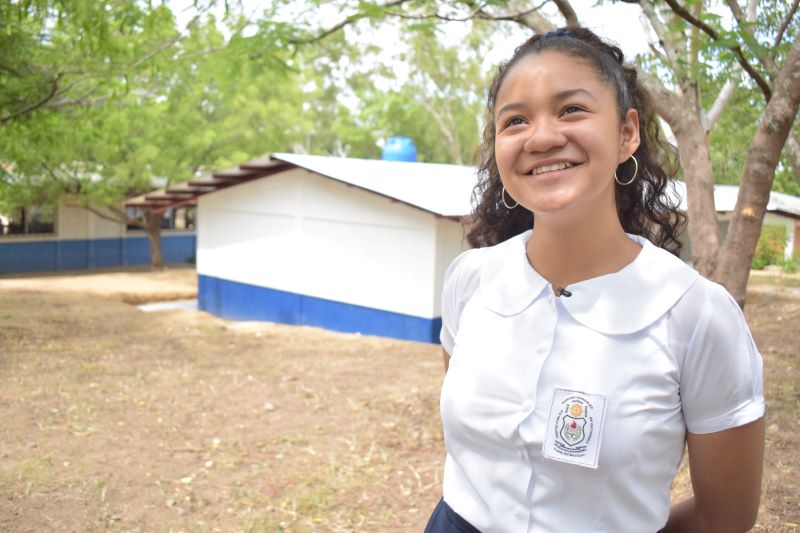 Nayobi Montesinos is 14 years old from Nicaragua and thanks to her participation in the School Enterprise Challenge, feels she is now a whole new person. The programme has helped her to confront her fears, step forward, raise her voice and believe in herself.
She has been elected as the secretary of her school business Mini Librería "God's blessing" thanks to her perseverance, dedication and hard work. The business provides school supplies to the students to cover all the needs they may have and as a secretary, Nayobi´s work is "to summarize the different ideas of my classmates to establish a marketing strategy for the market".
In order to create this business, the school worked as a team. They identified the needs their school and students had, studied the available resources and came up with the idea of creating a library. They currently do not have any bookstores nearby so this is such a thoughtful and useful idea for all the students! They are also using the profits from their business to contribute to the improvement of their school, by constructing a new sports court and two more classrooms!
Leaving the fears behind
Before joining School Enterprise Challenge Nayobi was very insecure and afraid to express her opinions and emotions for fear of what other people might think, limiting her from developing her skills. However, the programme has taught her that it was in her power to change that and that it was time to raise her voice.
It also pushed her to help others around her, Nayobi is now eager to help other students with the same self-esteem problems to discover their personalities and find their passions.
When I entered the project I felt that my shyness began to disappear, I was able to be reborn and improve for the better.
Nayobi Montesinos
Thinking ahead to the future
Nayobi invites everyone to participate in the School Enterprise Challenge so they can improve their skills, their talents and become masters of their own destiny. The programme "will give you a better future. We all have opportunities and we should take advantage of them to succeed with each other."" she affirms.
She plans to be a teacher in the future and share her knowledge, "I want to be that hand that will always be there for others, to be able to lift them up and tell them that they can achieve whatever they set their minds to." and now thanks to the School Enterprise Challenge, that goal is a little bit closer.