We have worked in Latin America since 2009. Our regional office is based in Honduras however our teams work across Latin America to support low-resource schools in Honduras, Nicaragua, Guatemala, El Salvador and Paraguay.
Working closely with local organisations and government education offices, we engage low-resource schools in our School Enterprise Challenge Latin America programme, providing direct training and step-by-step support that is tailored to the local context, as well as social media networks for teacher and student experience exchanges.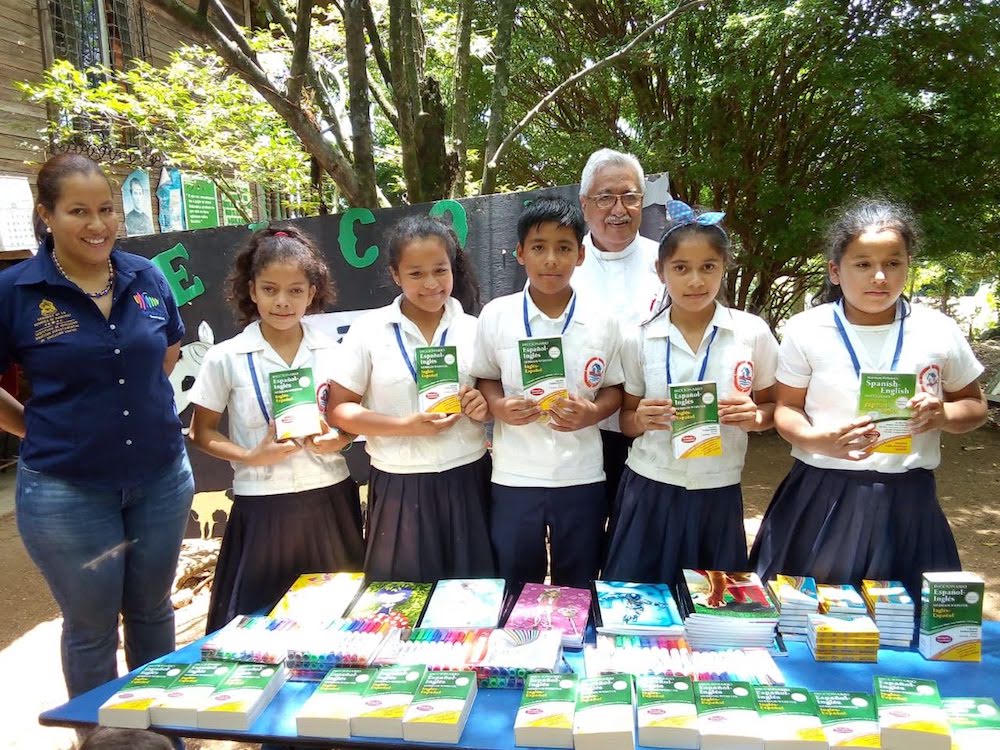 Young entrepreneurs host a book stall
Honduras has a very young population, with 67% of its population under the age of 29. Youth unemployment is an urgent problem with more than half of those who are unemployed aged under 24. Almost a quarter of teenagers and young people in Honduras are not enrolled in school nor are part of the labour force.
In April 2022, the Honduran Ministry of Education announced a National School Entrepreneurship Programme "Aprender para Emprender." Following our successful pilot of introducing the School Enterprise Challenge as part of the national curriculum, we are now working side by side with Honduran officials to roll out the School Enterprise Challenge to all schools across the country as part of their entrepreneurship programme.
We started the two-year pilot in 2019 funded by BFSS, and worked hand-in-hand with the Ministry of Education to introduce the School Enterprise Challenge as a core part of the Honduran curriculum for High Schools rather than as an extracurricular activity.
There was much disruption during the lifetime of this project due to Covid-19 with continued school closures. The project still reached 66 schools, trained 262 teachers and supported 1,800 young people to learn plan their school business. The project was extended into 2021 to include 2 further low income schools, supporting an additional 50 students.
"The School Enterprise Challenge gives students more certainty entering the world of work, as they gain confidence to start their own employment. Teach A Man To Fish's educational resources and guidance are supporting students to develop entrepreneurship and problem-solving skills. This organisation has come to support us in Honduras so that we can solve the great challenge of youth unemployment." - Emilio López from The Ministry of Education
We are also enormously proud to be partnering with Fyffes in Honduras for the first time. Our project together will help 300 disadvantaged young people in 6 schools in Honduras to gain skills, mindsets and experience vital to their success in school and beyond school.
Inspiring Stories: Jonson
At just 21 years old, Jonson has created two businesses and three jobs. He lives in Honduras where, every year, the number of young people looking for a job surpasses the number of jobs available.

"I advise all those people who are worried today about not finding a job opportunity that they have the solution in their hands, because they can make their own future, ceasing to be employees and becoming employers.""Being an entrepreneur is the best thing you can do. You work your own hours and build your own future without depending on an employer. I am currently earning around USD$367 profit every month, when employees my age usually earn between USD$160 and USD$200, so I can save for my studies next year."
Jonson is a young entrepreneur from Guamaica, Honduras, who has used the skills and knowledge learned from participating in the School Enterprise Challenge in 2018 and 2019 to forge a successful future for himself.
Jonson believes that taking part in The School Enterprise Challenge gave him a "sample of the real world". Thanks to the knowledge he acquired, Jonson has become a role model to his classmates and community who he encourages to become entrepreneurs, no matter how much start-up capital they have: "We need to become employers and create opportunities, not aim for being employees".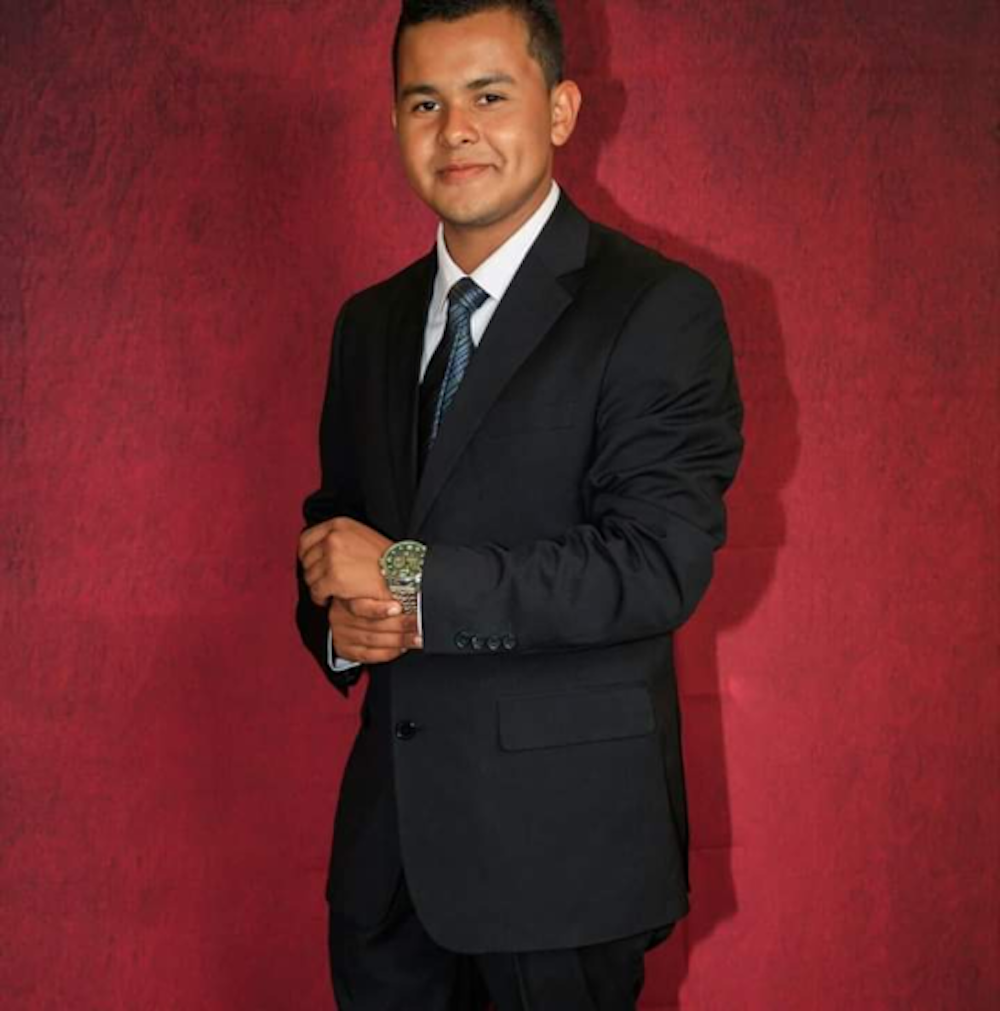 Endorsed by the Ministry of Education (MINED) Sebaco, Chinandega, Carazo and the Caribbean Coast Autonomous Region South, Teach A Man To Fish ran the School Enterprise Challenge in partnership with Dubai Cares, part of Mohammed Bin Rashid Al Maktoum Global Initiatives, to transform education for over 6,000 young Nicaraguans from June 2018 - August 2021.
Despite a turbulent two years, with political unrest and Covid-19 causing ongoing disruption for schools, the programme reached 6,374 marginalised children and young people from 155 schools, giving them the opportunity to improve their skills and knowledge in running and planning a business. By developing their communication skills, teamwork and leadership skills they can be more confident about securing decent employment, becoming a successful entrepreneur or furthering their education.
Guided by Teach A Man To Fish staff, 546 teachers were trained to facilitate experiential entrepreneurship education and to include School businesses in their school activities for future years.
Furthermore the programme has gained increased recognition of the government education department (MINED) with greater understanding of how the School Enterprise Challenge can provide a platform for entrepreneurship education and add value to the national education curriculum.
Learning skills like teamwork and communication is keeping young people in school
Public School Ruben Dario in Sebaco has been running their school business 'RD Films' since 2020 - a complete cinematic experience for the local community.
Students Kelvin, Anasha and Fernando share their experiences of the School Enterprise Challenge. Learning communication, leadership and teamwork skills means these young entrepreneurs want to continue their education and secure a decent job when they graduate.
In Guatemala, working closely with the Sub-Directorate of the Ministry of Education (DIGEEX) we are building our support for Nucleo Familiar de Desarollo (NUFED) schools. NUFED schools provide education for young people in marginalised locations throughout Guatemala with community support. We aim to further improve the percentages of schools that participate and run school businesses in our School Enterprise Challenge Latin America programme.
"Through learning how to set up a business, implement it and keep the accounts, the students have started to appreciate the value of their resources more. They saw that even with little capital, they can achieve great things."
- Miriam, Volunteer in Guatemala
"Visiting school businesses in different schools across Central America, I have observed how children develop creativity, imagination, team relationships and positive thinking, and I see the teachers participating in the same way that their students do."
Dilma Martinez, Director Fundacion Terra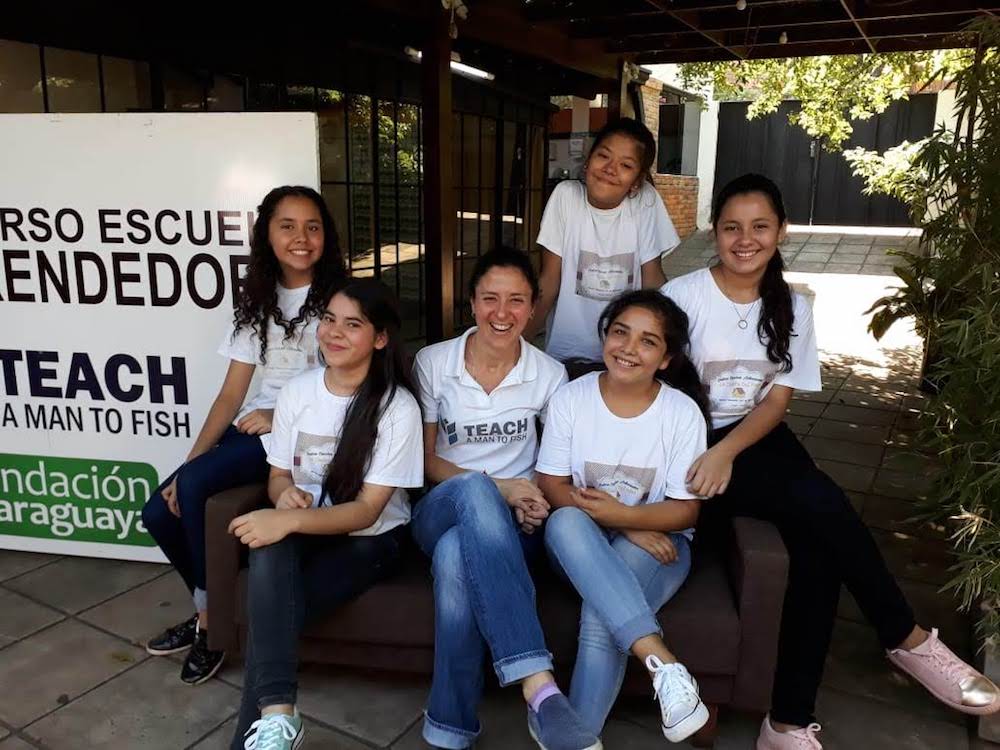 In Paraguay, we work hand-in-hand with our sister organisation Fundación Paraguaya to bring the School Enterprise Challenge programme to schools across Paraguay.
The Paraguayan government has formally adopted the School Enterprise Challenge as part of its curriculum for primary and secondary schools across the country, with the aim of bringing entrepreneurship education to each and every student.
"The School Enterprise Challenge helps our young students to be independent and think like an entrepreneur. Through our business they are practising basic skills like maths, they think about planning next steps after they sell and they are also learning about nutrition."
Rose, Teacher, SOS Hermann Gmeiner Primary School
Our supporters in Latin America