We have worked in Latin America since 2009, and in 2014 established a regional office in Nicaragua to lead our support of student and teacher teams in low-resource schools in Nicaragua, Honduras, Guatemala and Paraguay.
Working closely with local organisations and government education offices, we engage low-resource schools in our School Enterprise Challenge Latin America programme, providing direct training and step-by-step support that is tailored to the local context, as well as social media networks for teacher and student experience exchanges.
Nicaragua
Endorsed by the Ministry of Education (MINED) Sebaco and Carazo and working in partnership with the American Chamber of Commerce (AMCHAM) Nicaragua and Fundacion Coen, we supported student and teachers in 45 schools to plan and/or run and develop a School Business in 2018.
In 2017, the creative collective Photographers Without Borders visited La Bastilla Technical Agricultural School in Los Colinas, Nicaragua, a college which has implemented the Teach A Man To Fish School Business Model. You can read the article and see their photography gallery here.
Partnering with Dubai Cares

In Nicaragua's School Enterprise Challenge, Teach A Man To Fish is partnering with Dubai Cares, part of Mohammed Bin Rashid Al Maktoum Global Initiatives, to transform education for over 6,000 young Nicaraguans.
Through this programme, which runs from June 2018 to 2021, students in 165 schools will have the opportunity to develop the skills and knowledge to secure decent employment, become successful entrepreneurs or further their education by taking part in a School Business. Trained and guided by Teach A Man To Fish, staff from partner NGOs and the Nicaraguan Ministry of Education will join Teach A Man To Fish staff in training teachers on experiential learning in a real business in school and guiding teachers as they lead their students through an entrepreneurial journey.
Inspiring Stories: Juanita
Juanita joined La Bastilla Technical Agriculture Centre in Nicaragua at the age of 23. She got involved in running the school coffee business supported by Teach A Man To Fish and after graduating, used the knowledge and experience she gained in the business to secure a well-paid position in a coffee processing plant in Costa Rica.

"If I had not joined La Bastilla and the School Business team, most likely I would be sitting around at home doing nothing. I would not work, maybe I would be studying but I would be very much behind"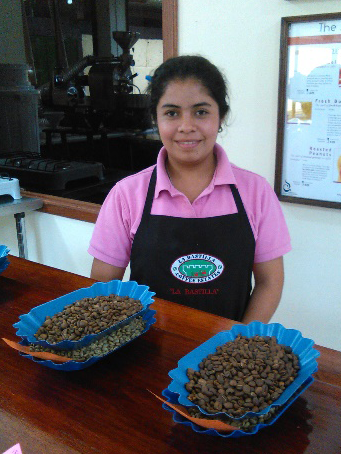 Juanita working at the coffee processing plant.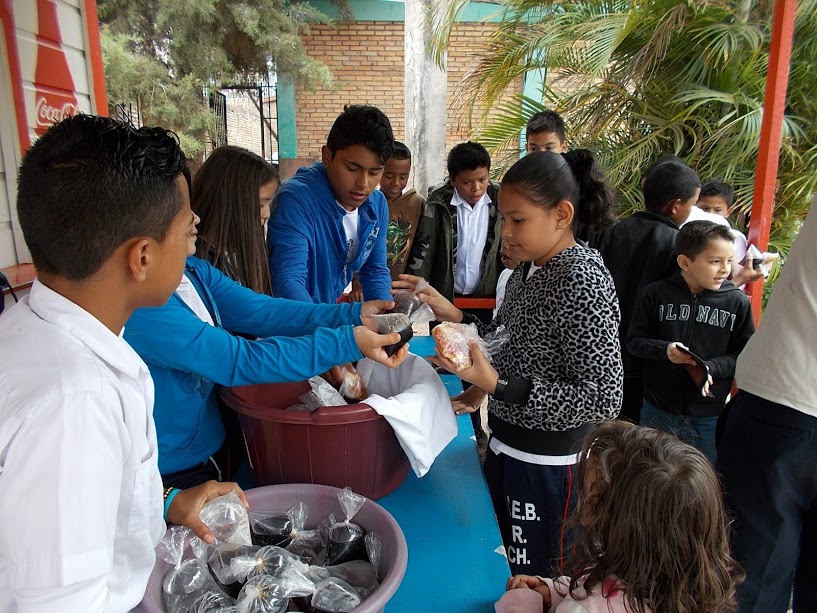 Republica de China School Business team selling their pastries
In Honduras, supported by the Ministry of Education and local partner organisations, we aim to create a new system of curriculum integration involving an expected 45 schools in 2019.
"We see young people opening a path for themselves, they are thinking outside the box. We have children, adolescents and teachers who are becoming change agents".
- Alejandra Soleno, Regional Coordinator for Central America
Guatemala
In Guatemala, working closely with the Sub-Directorate of the Ministry of Education (DIGEEX) we are building our support for Nucleo Familiar de Desarollo (NUFED) schools. NUFED schools provide education for young people in marginalised locations throughout Guatemala with community support. We aim to further improve the percentages of schools that participate and run school businesses in our School Enterprise Challenge Latin America programme throughout 2019.
"I have learnt so much about record-keeping and how to keep accounts through our School Business... The School Business helped me a lot."
- Student, Núcleo Familiar Educativo para el Desarrollo (NUFED) 355 government school, Guatemala

Paraguay
In Paraguay, we work hand-in-hand with our sister organisation Fundación Paraguaya to bring the School Enterprise Challenge programme to schools across Paraguay. In 2018 we supported 579 schools in planning and/or running a School Business that is both educational and profitable.
"The School Enterprise Challenge helps our young students to be independent and think like an entrepreneur. Through our peanut snack business they are practising basic skills like maths, they think about planning next steps after they sell and they are also learning about nutrition. The children are so engaged in the School Business."
- Rose, Teacher, SOS Hermann Gmeiner Primary School
Our supporters in Latin America