Teach A Man To Fish has been supporting young people in Uganda since 2014. With growing figures of youth unemployment across the country, and pockets of low student retention rates in some regions, our programmes equip young people with the tools they need for success at school and beyond.
Our work focuses on making sure that the most marginalized young people can benefit equally from our programmes.
During the pandemic, schools remained closed in Uganda for almost two years, meaning young people were at risk of dropping out of education altogether. To ensure we could continue to offer learning opportunities to children, Teach A Man To Fish set up out-of-school business clubs, working with 50 schools in 2021 to deliver the School Enterprise Challenge programme to small clusters of students.
2021 also saw the completion of a two year project with Education Cannot Wait, bringing the School Enterprise Challenge to 60 refugee schools in northern Uganda. Over 2000 learners from four refugee settlements developed essential business and life skills and the confidence to follow their ambitions.
We are also running the Youth Enterprise Challenge, working with 1,440 out-of-school youth in rural communities in Mityana. Collaborating with Opportunity International, Hanns R Neumann Stiftung and Opportunity Bank Uganda Ltd, we are working with existing farmer field groups and supporting them to plan, set up and run a group business. In year one, increased confidence and knowledge in financial literacy, market research and forward planning has enabled 250 high achieving group members to set up businesses that can support their families and local communities.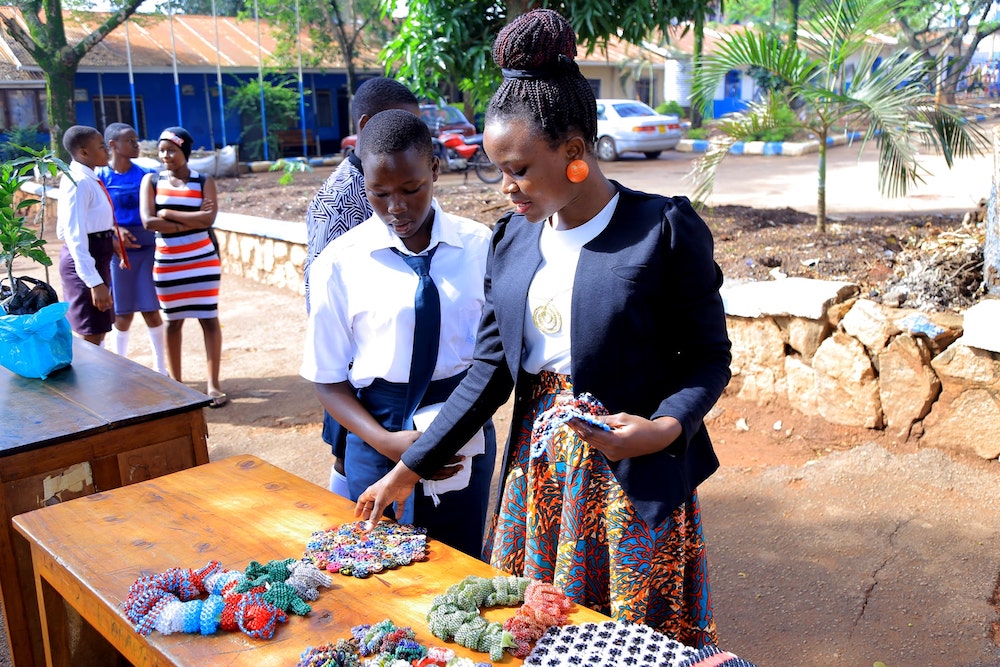 Over 5,500 young Ugandans took part in our programmes in 2021
Inspiring Stories: Patrick
"I have gained a lot of confidence participating in the programme and I never imagined myself starting a business. I used to use any money I earned to buy food for home, but now I think about how to invest."
16 year old Patrick is a South Sudanese national living in the Palabek refugee settlement in Uganda. He lives alone with his sister and is the sole breadwinner for them after being separated from their parents. He has been participating in the School Enterprise Challenge since July 2020. By attending the lessons, he acquired the confidence and skills to set up his own business.
Overall, the programme has changed Patrick's aspirations for the future, as he now wants to set up a big wholesale shop as well as study to become a banker.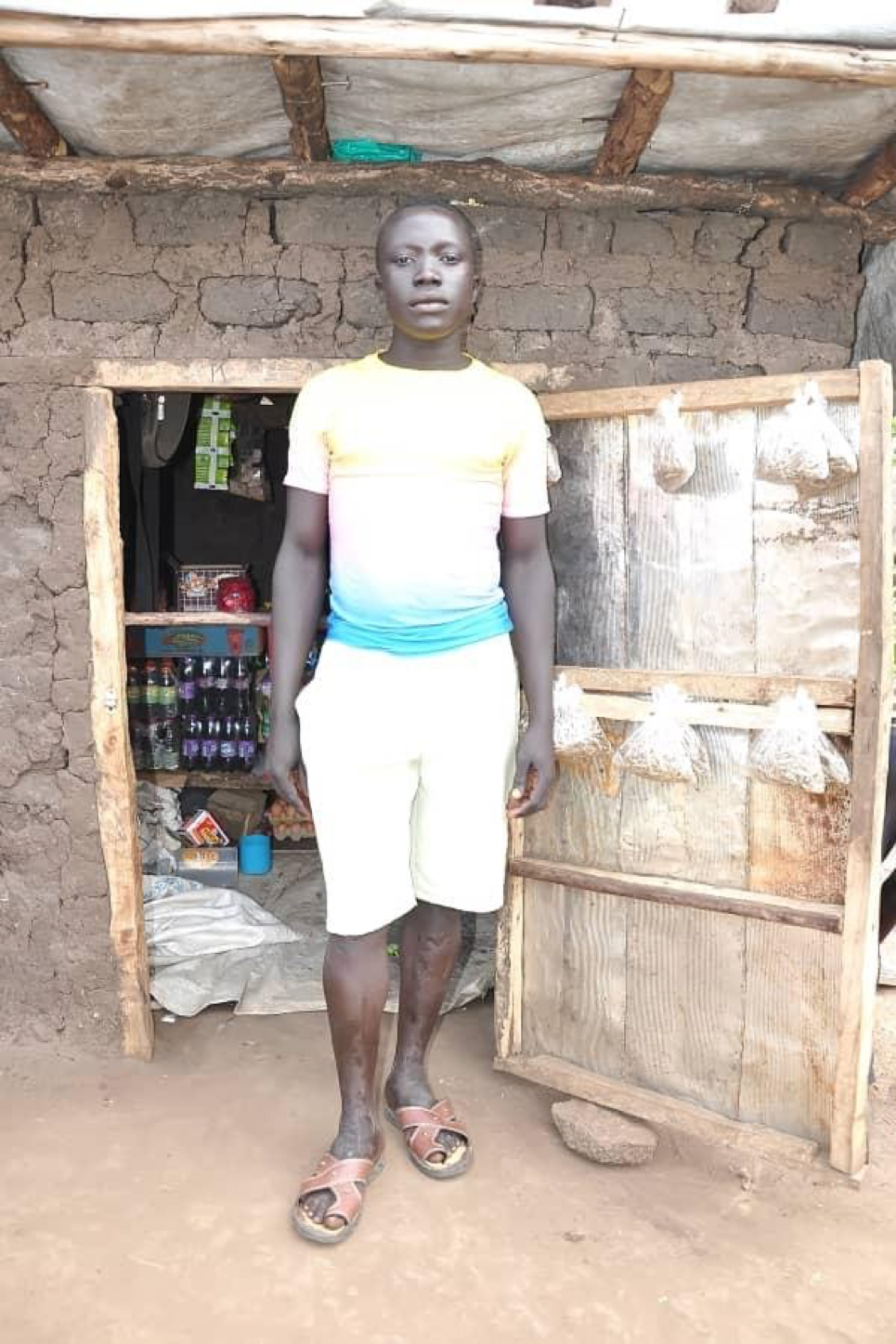 We work to help combat educational inequality in South Africa, launching our School Enterprise Challenge programme in South Africa 2014. We started by engaging teachers and students in schools throughout Kwa-Zulu Natal province to plan, set up and run educational, profitable and environmentally-conscious school-based businesses. In seven years we have supported over 4,500 young people across South Africa to gain vital life skills, business knowledge and practical entrepreneurship experience.
In 2020, in response to Covid-related school closures we created and rolled out our new programme - the Enterprise Adventure in printed workbooks to learners in 30 schools in Kwa-Zulu Natal. The programme guides young people to work on their own to come up with a plan for a social enterprise that addresses challenges they see in their communities. The Enterprise Adventure enabled more than 700 learners to continue developing key skills for success in school, work and life despite school closures.
As the disruption to schooling continues in 2021 so we have continued to combat educational inequality, engaging young people and teachers in marginalised communities in practical entrepreneurship education. 500 more learners will take part in our Enterprise Adventure programme in 2021 and 75 teachers will strengthen their pedagogical skills through participation in our series of professional development webinars.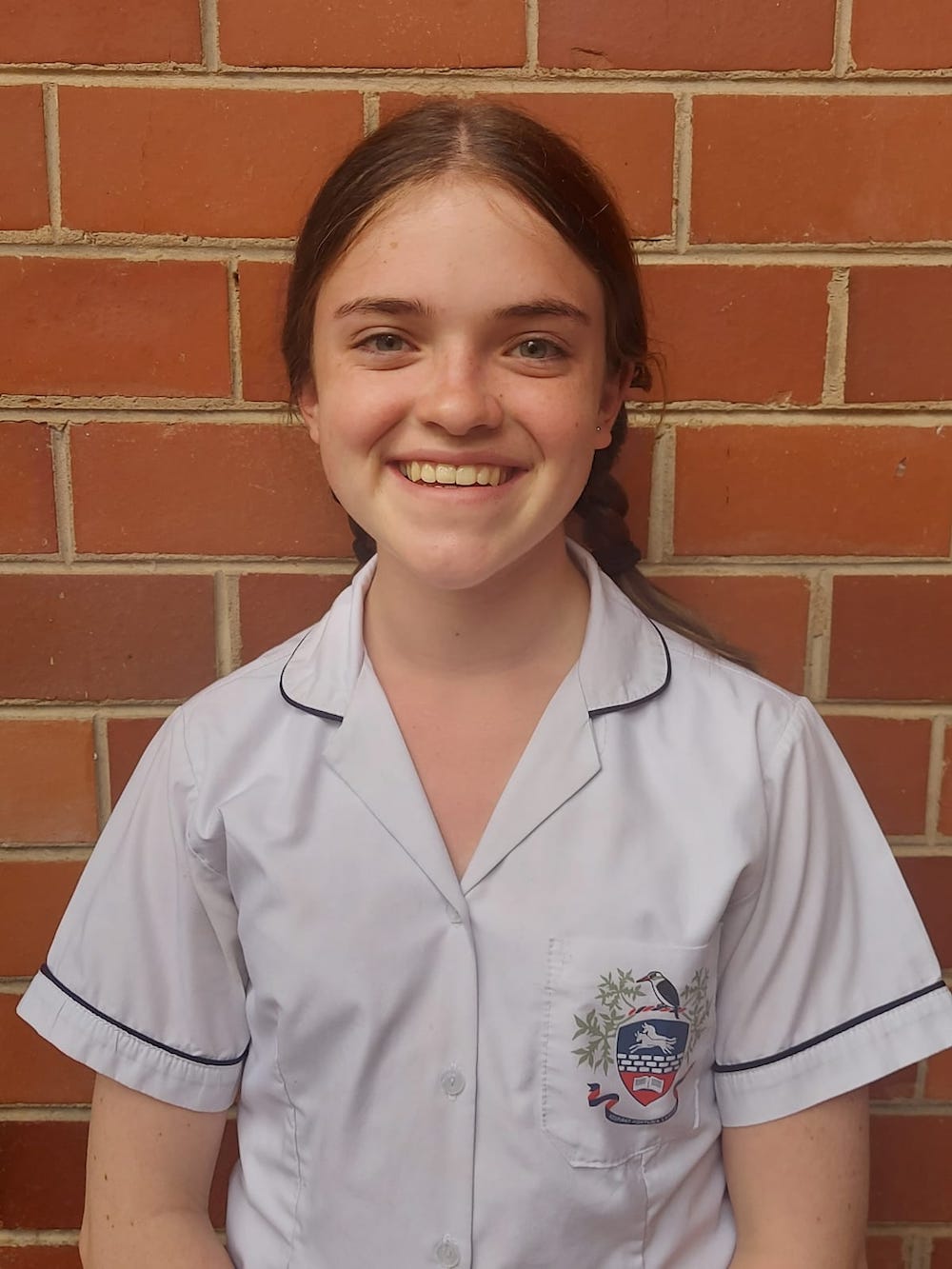 Emma took part in the Enterprise Adventure in 2020. Her business idea is for a financial App that helps people manage and track their finances
"The Enterprise Adventure intrigued me as it's about developing our entrepreneurial mindsets and helping us gain important skills and experiences that would help us in the future. It is a great opportunity for me." -Ntandokazi, Hillcrest High School, South Africa
From 2013 to March 2017 Teach A Man To Fish was a partner in implementing the Rwandan Education Advancement Project (REAP), led by Health Poverty Action. With DfID support, 28 schools in Nyaraguru district in Southern Rwanda were supported to start and run sustainable School Businesses. These businesses support girls' education.
Building on REAP, in 2016 Teach A Man To Fish launched our flagship School Enterprise Challenge programme in Rwanda. We continue to work in Rwanda with support from the Lemonaid + ChariTea Foundation, Social Capital Foundation, Czarnikow, St. Mary's Church Charities Committee and Fiecon. Six years after this project's beginning, 69% of the school businesses that were set up at the time are still running, generating a much-needed additional income for these rural schools and their students.
In 2020, we adapted the School Enterprise Challenge to launch out-of-school Business Clubs, reaching children and young people in spite of school closures due to the COVID-19 pandemic. The projects allow young people in marginalised communities to gain essential life and business skills through the planning and implementation of businesses outside of school.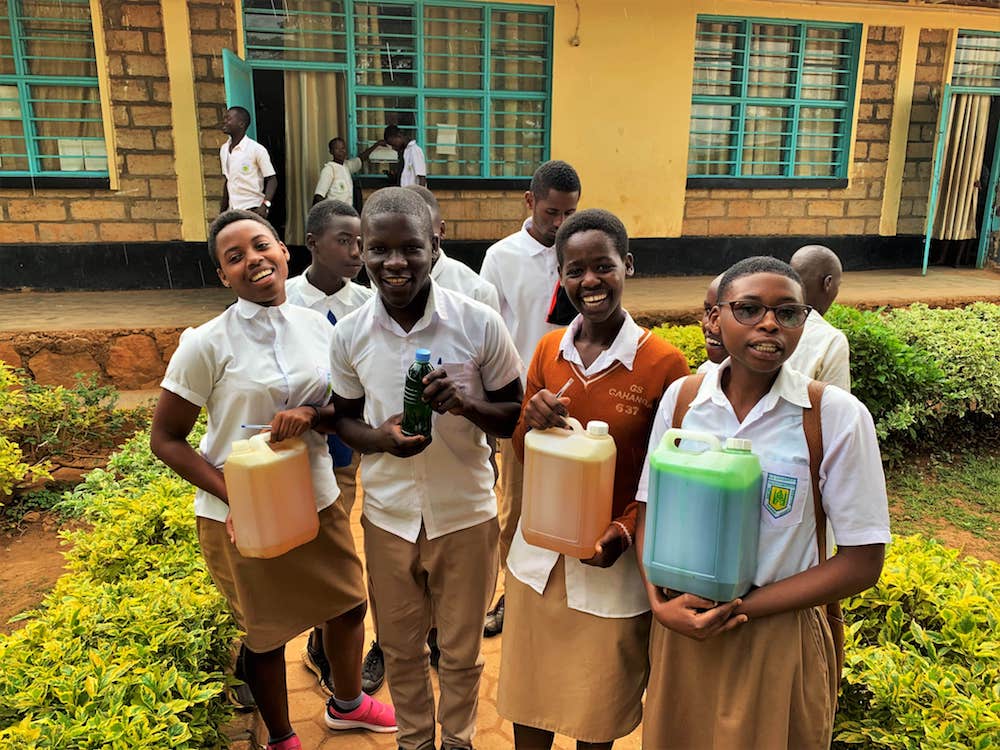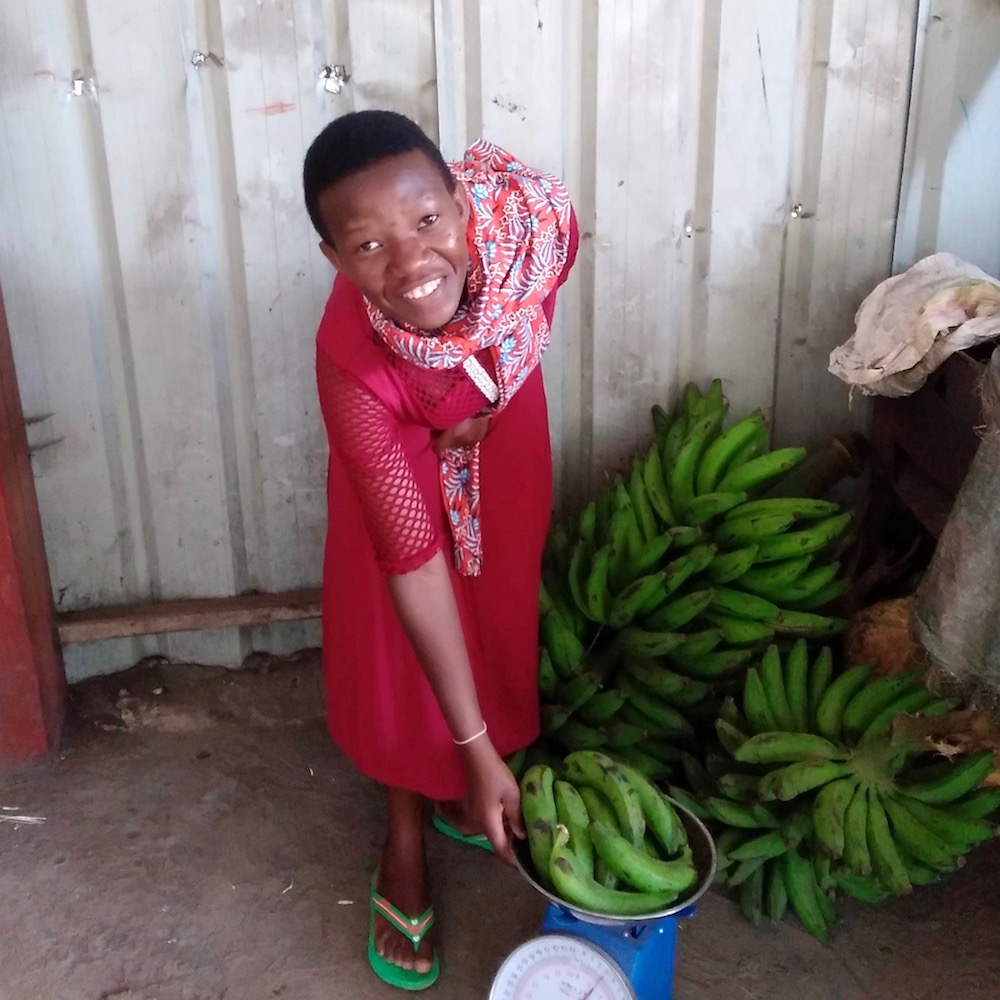 "I was always dreaming about being a businesswoman!"
"I was always dreaming about being a businesswoman! To join a business club helped me to achieve my dreams and strengthen me. It helped me know how to create my own business when I finish school by doing a feasibility study with the low resources we have available to us."
Diane is a 19 year old student at a Technical and Vocational Education and Training Centre in Rwanda. In August 2020, she joined the business club 'Everything is Possible Club' as a cashier selling bananas.
Diane has really taken on the motto of her business' name, and has great ambitions for the future: "I plan to have a company in the future that will produce goods. I want to do research on how bananas can be stored for a longer time, and then my company will be able to create new and innovative products."
In 2018, we worked with local partners to support 15 schools in Kenya to set up, run and develop sustainable School Businesses directly benefiting more than 2,000 young people.
Our partnerships allowed low-resource schools both in rural and urban settings to participate in the School Enterprise Challenge and learn valuable skills to combat youth unemployment in their countries.
Inspiring Stories: Shammah Children Centre
Located in Nairobi's Kibera slum - considered the largest slum in Africa - lies Shammah Children Centre, an informal school set up in response to the lack of public schools in the region. With no government funding, the centre suffers from a high student-to-teacher ratio and lacks good quality education resources.
Determined to generate income for their school and improve the livelihoods of students, a group of teachers and students at the Centre joined theSchool Enterprise Challenge and set up their own poultry and rabbit rearing businesses, as well as a vegetable garden.
In their first nine months of operation the school business team, known as the Shammah Shakers, earned a $1,200 profit and involved over 100 parents in the businesses creating a community-wide impact!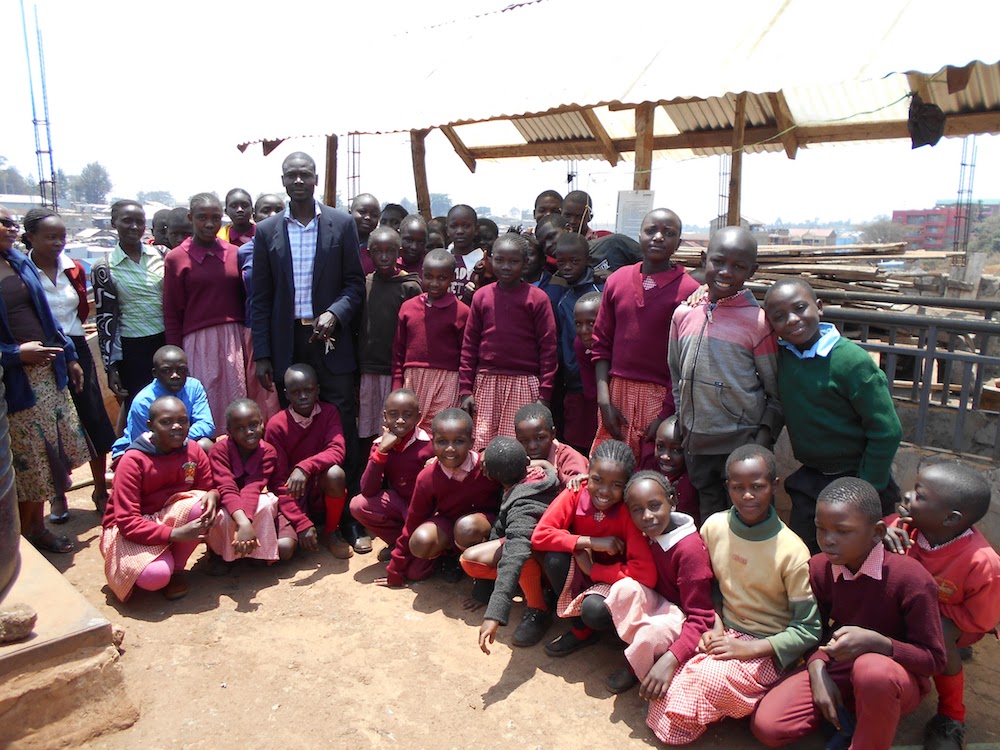 "We are very grateful for the programme of Teach A Man To Fish because we have been able to get through their guidelines and, out of their guides, we have been able to have a running business"
Our supporters in Africa