India has the largest youth population in the world (over 300 million) and a significant youth unemployment problem among both educated and unskilled youth. 18% of youth (15-29 years) are unemployed and not studying, and an additional 35% are trapped in a cycle of poorly-paid piece work.
In 2019, Teach A Man To Fish supported 202 schools in running school businesses in India through the School Enterprise Challenge. 116 of these schools were supported through our partnership with the Bharti Foundation, giving young people in low-resource rural schools in five states the opportunity to develop business and life skills through the running of profitable and sustainable school business.
Inspirational Story: Asmi
Asmi is a fifteen-year-old student from Dwarka, a city in north-western India. She has been part of her school's student-led business, Sanjeevani Embracing Life, since 2016. This business's guiding principle is environmental sustainability, and it offers a wide range of eco-friendly products.
Her time as an active member of the school business inspired Asmi to launch an independent enterprise, Weaving Waste, on the 3rd October 2019. In this venture, Asmi combined her interests for sustainability and fashion, and has been making rugs and mats from recycled cloth. In her own words, Asmi explains that "while working in my enterprise, I have undergone metamorphosis and evolved as a new individual well equipped with the 21st century skills". By combining creativity and environmental consciousness, she has managed to turn her business into a success, making a profit of 6,635 INR (USD $93) after running it for 3 months.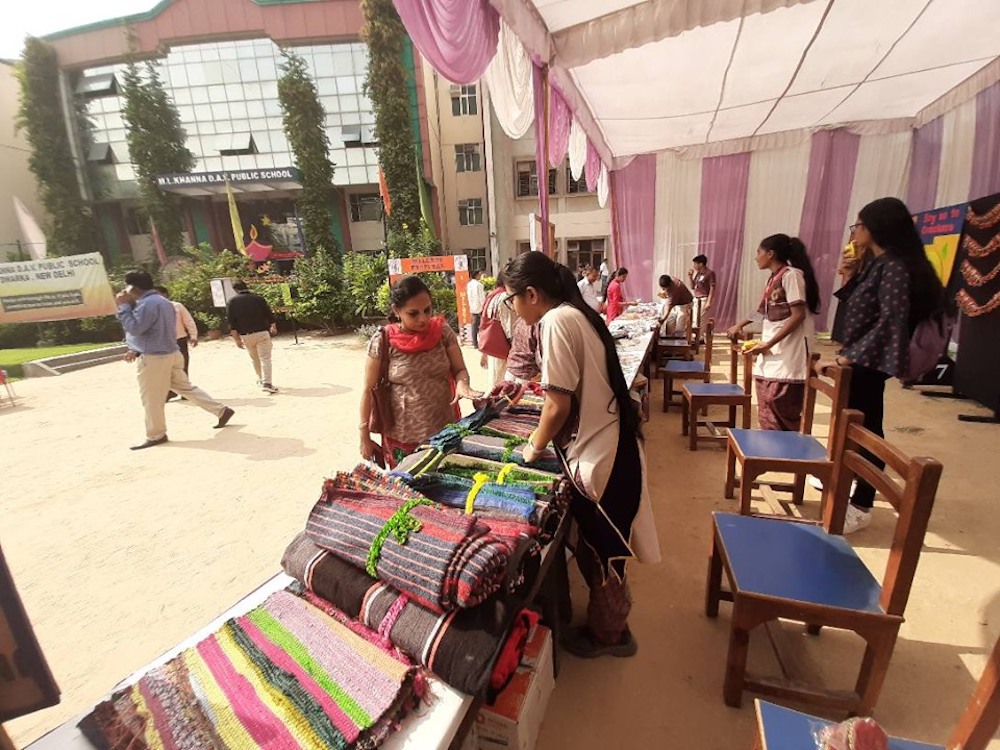 Asmi selling the rugs and mats she produced as part of her independent enterprise, Weaving Waste.
"When you close the first sale, party it up for a while and then get right back into it. This is the best time to ride the momentum wave as high as you possibly can!"
Bhavika Harchandani, student at Good Shepherd International School, India