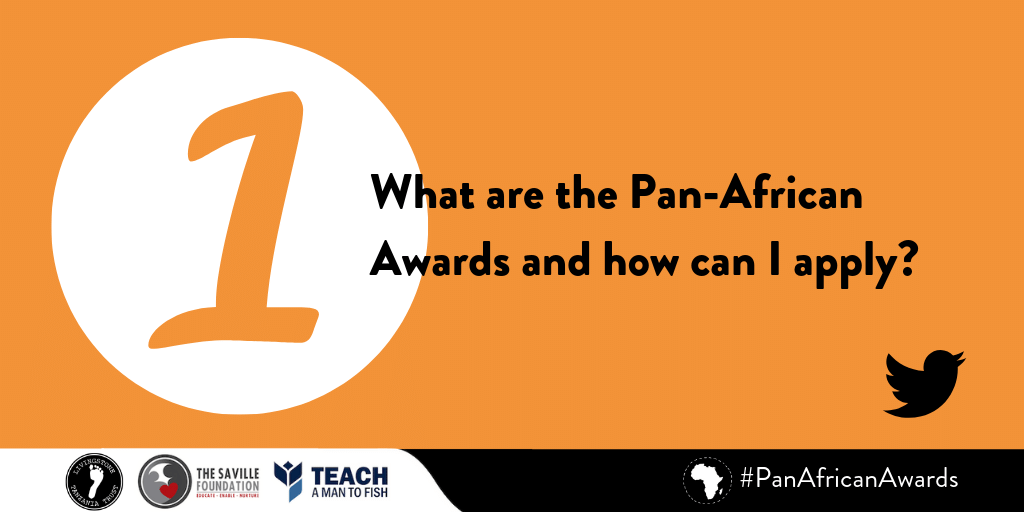 In our first Twitter Chat about the Pan-African Awards for Entrepreneurship in Education, we sat down with the Livingstone Tanzania Trust (@LTTtweets), winner of the 2013 and 2017 Runner Up Prize, to discuss all things #PanAfricanAwards.
In case you missed it, we've pulled together the questions and answers from our interview in the transcript below.
Q1. What are the Pan-African Awards and how can I apply?
@TeachAManToFish:An easy one to start with! The #PanAfricanAwards is a competition that rewards organisations supporting young #Africans through #entrepreneurship & #entrepreneurial solutions. It's an initiative of The Saville Foundation @TSF_SouthAfrica and managed by @TeachAManToFish. You can apply online here: https://www.teachamantofish.org.uk/pan-african-awa...
@TeachAManToFish: We reward #innovative & #sustainable organisations in Africa with:
First Prize of $15,000
Two Runners-Up Prizes of $5,000
Future Partner Prize of $5,000
Our co-host @LTTtweets won prizes in 2013 and 2016 for their inspiring work in #Tanzania
@TeachAManToFish: @LTTtweets, how long did it take for you to submit an application through the online form?
@LTTtweets: We are constantly monitoring and evaluating the enterprise programme and because of this we are able to measure the impact. As a result the application process is just a well thought out 2 hours. #PanAfricanAwards
---
Q2. Who can apply to the Pan-African Awards?
@TeachAManToFish: The #PanAfricanAwards are open to organisations across #Africa that are driving social change through #innovation and #entrepreneurship. You can read our criteria for applying in our Application Guide here: https://www.teachamantofish.org.uk/pan-african-awa... ……
---
Q3) What types of evidence did you give in your application to the Pan-African Awards?

@LTTtweets: We also included stories of how some the students and some of the teachers have taken their new agricultural knowledge home and implemented it at home. #PanAfricanAwards
@LTTtweets: In our application #PanAfricanAwards we included the profit and loss details of the enterprise activities at the different schools we work with and detailed what the schools then used the profits for.
---
Q4). How did you make your application stand out @LTTtweets? #PanAfricanAwards

@LTTtweets: Our application to #PanAfricanAwards was written in clear, simple sentences, but I hope still demonstrated our passion for the project. We were clear about the aims and successes and who was involved and the impact we have been achieving.
---
Q5. What did you spend the prize money on? @LTTtweets #PanAfricanAwards

@LTTtweets: We used the #PanAfricanAwards prize money to reinvest in the programmes in the different schools, buying drip irrigation systems or net shading to reduce evaporation. It has helped reduce costs and improve productivity.
---
Q6. How long was it before you found out the result of your application? @LTTtweets #PanAfricanAwards

@LTTtweets: #PanAfricanAwards I think it was about a month between the deadline date and hearing back.
@LTTtweets: Following from this, the deadline of the 2019 #PanAfricanAwards is the 16th of August. We will then begin the judging process which will take approximately 4 weeks to complete! Winners will be notified by email before we make a public announcement.
---
Q7. How can winning the Pan-African Awards impact upon your work? @LTTtweets #PanAfricanAwards

@LTTtweets: We enjoyed being celebrated in the media the status it brought, but most of all we enjoyed being told by a 3rd party that what we are doing is really good and that boost to us and the team is huge. Thank you @TeachAManToFish
---
Q8. What advice do you have for organisations applying this year? @LTTtweets #PanAfricanAwards

@LTTtweets: #PanAfricanAwards if you are doing an enterprise programme that bring benefits to young people apply, the best outcome is you win, and if you don't the process of applying makes you review what you are doing, or how you are doing it, which in itself if hugely important.
---
@TeachAManToFish: Thank you for joining us for today's #PanAfricanAwards Twitter Q&A!

And a huge thank you to our special guest @LTTtweets for sharing excellent tips and advice