How the Pan-African Awards for Entrepreneurship in Education are supporting SDG8: Decent Work and Economic Growth
---
The 17 Sustainable Development Goals (SDGs) carry on the work begun by the Millennium Development Goals (MDGs), which stimulated a global campaign from 2000-2015 to end poverty in its various forms. Adopted in 2015, these goals are a universal call to action to end poverty, protect the planet, and achieve a more sustainable future for us all.
The Pan-African Awards for Entrepreneurship in Education supports the SDGs, especially SDG8: Decent Work and Economic Growth. Started by The Saville Foundation and managed by Teach A Man To Fish, the awards invest in African-driven and African-based organisations who are addressing skill gaps, financial insecurity, and underemployment through innovative entrepreneurial programmes.
For 11 years, we have invested in the work of over 150 African organisations. Each of these projects add to a long-term improvement in the opportunities available to young people in Africa.
---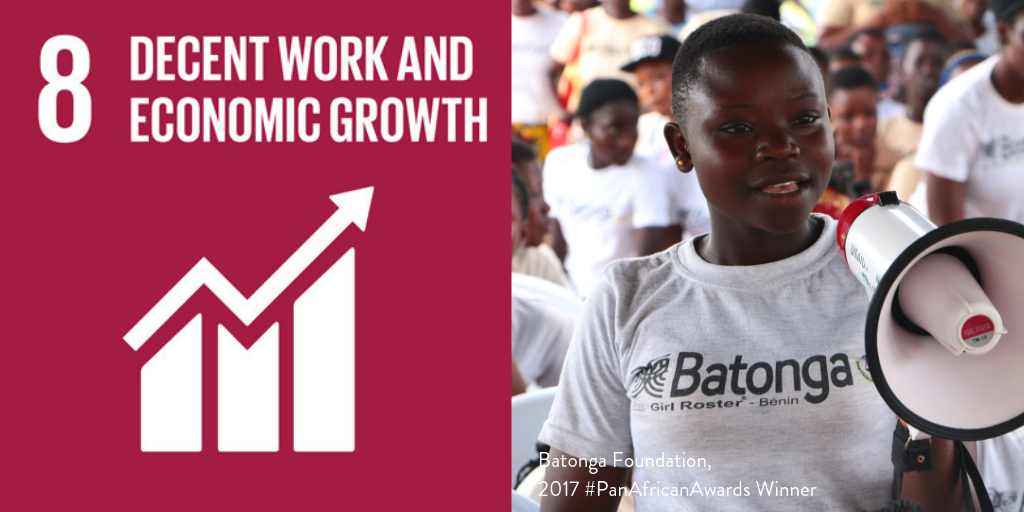 Why Africa?
---
In Africa, the continent with the largest youth population in the world, significant strides have been made in the fight against poverty. Between 2000 and 2015, Africa made significant progress, including on enrolling more children in primary school, particularly girls, increasing the representation of women in national parliaments, and reducing poverty. However, the continent remains a long way from achieving the aims of the SDGs by 2030.
Today, one in three Africans are still living below the poverty line, accounting for 70% of the world's poorest people (World Bank).
According to World Data Lab, the number of people living in extreme poverty - less than $1.90 a day - is falling, but not quickly enough. As of March 2019 - and for the first time since the SDGs were set in 2015 - more Africans are escaping extreme poverty than are falling below the poverty line. However, the pace of this poverty reduction is currently very small, with only 367 people moving above the poverty line per day. Nevertheless, by the end of this year, this rate will increase to over 3,000 people per day, resulting in a 1 million-person reduction in total African poverty in 2020.
The growth of entrepreneurship is critical to Africa's survival. Every year, more than 11 million job seekers enter the workforce in Africa, making the continent one of the most competitive job markets in the world.
But there is hope. Africa's startup scene is currently booming, with funding for startups even quadrupling in 2018. These small organisations are breaking the mould of business in Africa, employing innovative ideas and exciting approaches to create jobs and transform people's lives. Empowering entrepreneurs and startups is essential to drive employment growth, and enable both economic and social development. Since 2008, the Pan-African Awards for Entrepreneurship in Education have invested in solutions in education that transform the landscape of employment in Africa. By investing in these entrepreneurial organisations, we seek to amplify their potential impact and give young people greater opportunities in work and life.
---