Celebrating World Youth Skills Day
World Youth Skills Day, 15 July is a day to celebrate the importance of equipping young people with entrepreneurial skills for employment.
This has never felt more important than in the wake of a global pandemic. Young people are particularly exposed to the socio-economic consequences of Covid-19. With ongoing school and workplace closures, the disruption to learning and training continues.
Teach A Man To Fish is supporting young adults in rural Uganda to learn new skills and create a brighter future for themselves
Through partnership with Opportunity International, our Youth Enterprise Challenge programme is supporting out-of-school youth in rural communities in Mityana, Uganda.
We are working with existing farmer field groups, supporting them to plan, set up and run a group business, through collaboration with Opportunity International, Hanns R Neumann Stiftung and Opportunity Bank Uganda Ltd.
One of these is John Ssemuya Ssalongo, a member of the Vision youth group in Bbanda Subcounty. John is a 29 year old mechanic, famer, and is married with 4 children.
Through participation in Youth Enterprise Challenge, John was able to achieve his dream of setting up a garage and putting his mechanical skills to good use, providing and fitting spare motorbike and bicycle parts, initially from his own compound.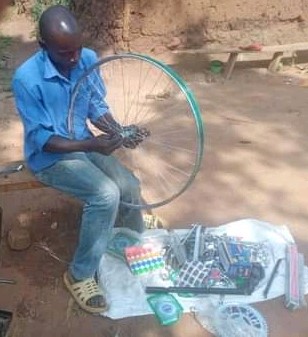 The Teach A Man To Fish programme taught John invaluable business skills including market research, decision making, financial management, building customer relationships and how to use local resources to start a business that can benefit the community.

John started his business with a 50,000Ugx (Ugandan shillings) loan from VSLA, using this money to buy parts for his garage. Just 5 months later, John has repaid the learn and is earning 100,000 Ugx each month, allowing him to rent a separate dwelling to run his business from. A self employed young Ugandan would normally earn roughly 30,000Ugx per month.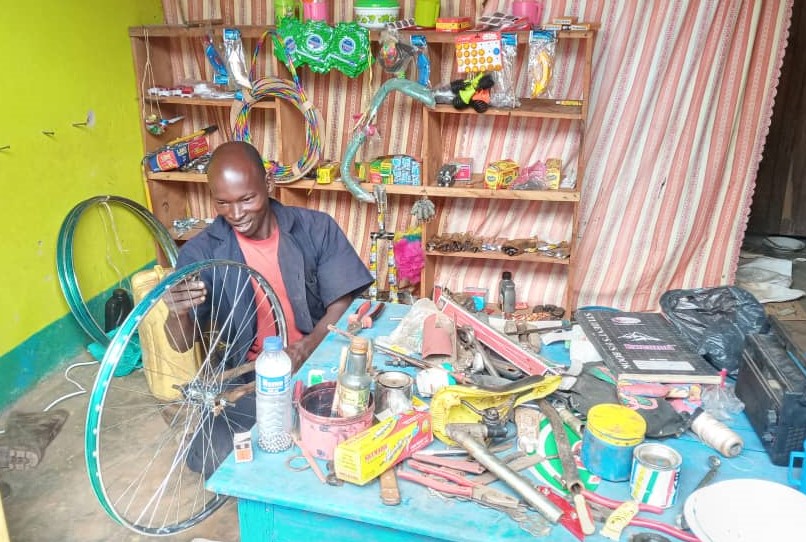 With a focus on developing the entrepreneurial mindset, Youth Enterprise Challenge helped John to think creatively about how to promote his business and adapt to external pressures such as Covid-19.
Not content with running a successful business, John has diversified his income and is now training students in his garage, bringing more money into the business whilst supporting the community and giving people something to believe in.