We won the 2020 Small NGO Impact Award from BOND!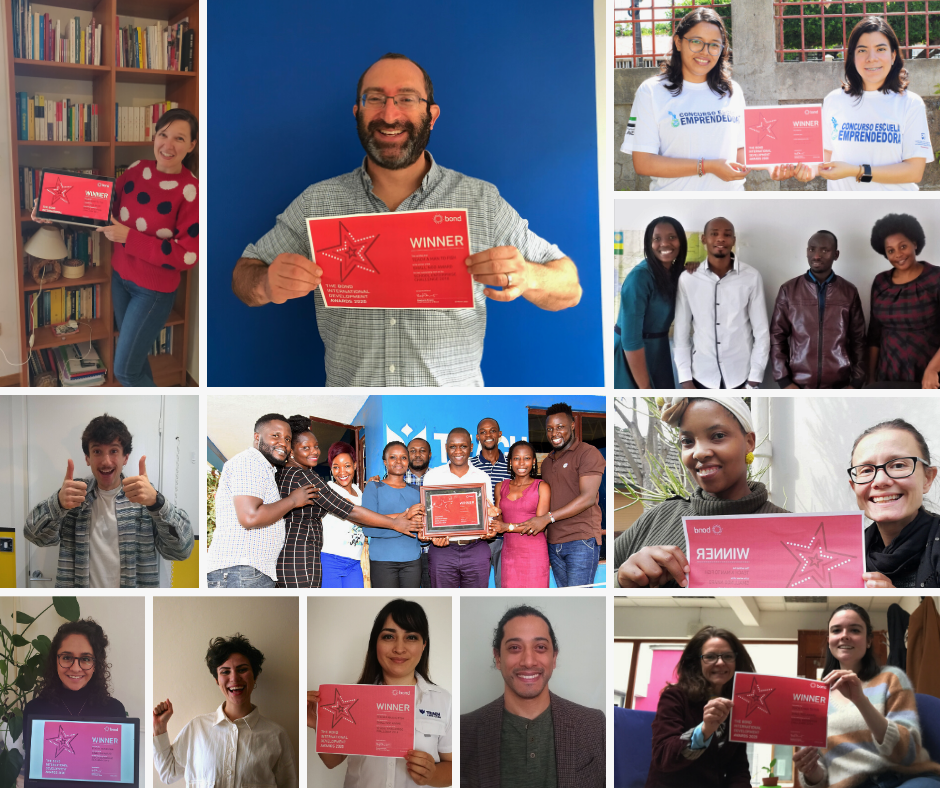 The global Teach A Man To Fish team is over the moon to announce that we won BOND's International Development Small NGO Impact Award 2020 for our School Enterprise Challenge 2018 Project. This award acknowledges small organisations that have made a big impact in people's lives and driven positive change in the world. Our CEO and Founder Nik Kafka describes how receiving this award feels:
"Empowering young people with the skills to shape their own future is what drives our teams across the world to overcome the many challenges they face every day. Winning an award from BOND is a wonderful recognition of their hard work, and validation of the impact we're achieving through the School Enterprise Challenge. It will fire us up to bring our transformative, hands-on entrepreneurship and life skills programmes to ever more young people in need."

Alex Natuhwera, the Country Manager for Uganda (and the team member who first thought of signing up Teach A Man To Fish for this award!), adds: "To me, winning the prestigious Bond award, demonstrates the fact that our great work, as Teach A Man To Fish, is not in vain - people around us recognise our day to day efforts. This greatly reinforces my energies to continue being that change maker - working tirelessly to uplift millions of youths and giving them the chance to take advantage of economic opportunities around them."

Everything we do is driven by the desire to help as many young people as possible to develop the skills they need for life and work. We truly believe in the impact our programme has on youth, schools and education systems and just love having the privilege of watching young people becoming confident young entrepreneurs. As Alex puts it, "it's been a thrilling two years of working at Teach A Man To Fish, and looking at the amazing and profitable school businesses set up and managed by youth around the world keeps my energies high."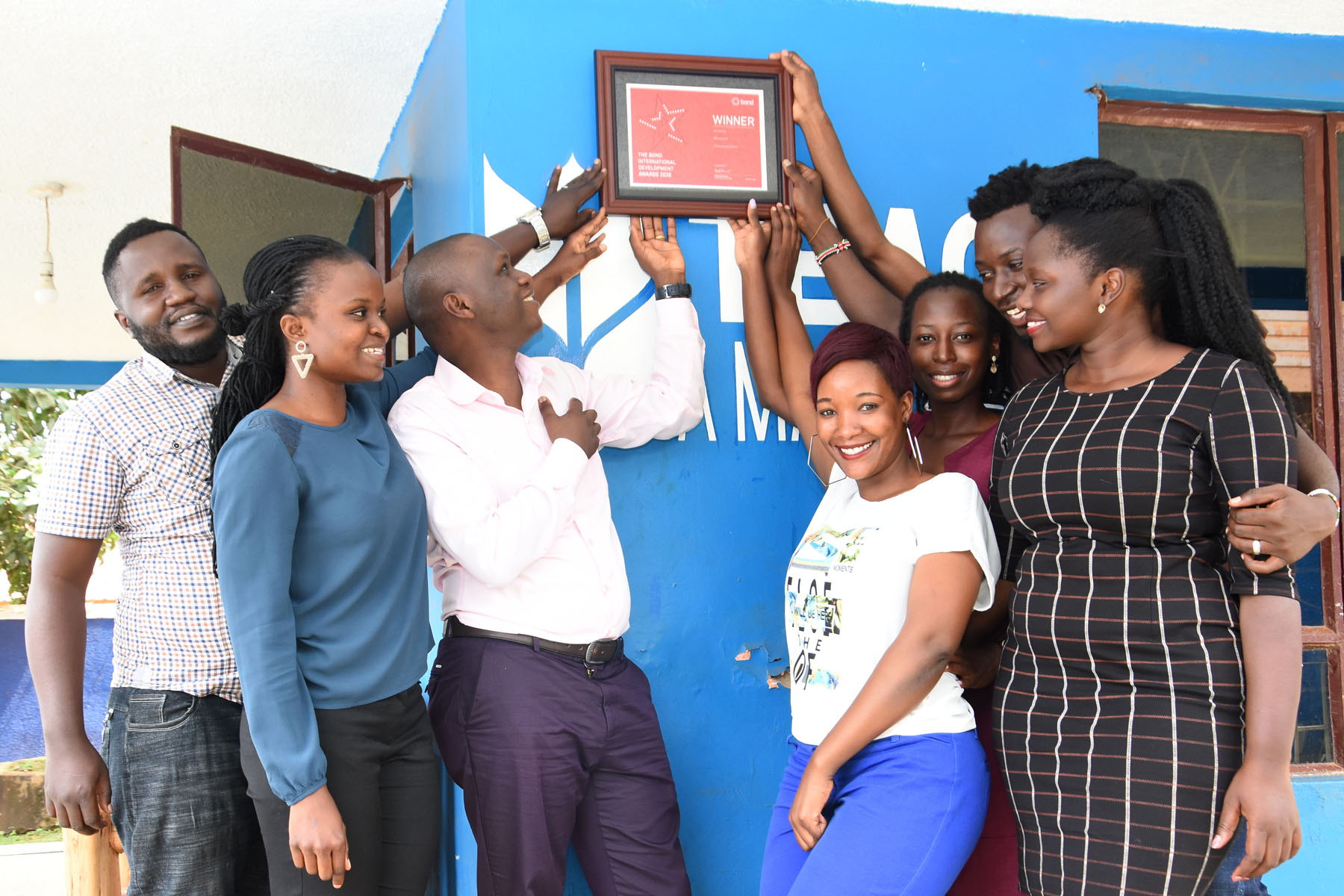 The impact of the School Enterprise Challenge in 2018
We're really excited to see the work that we did and the impact we had in 2018 recognised. Here are some of the amazing highlights from that year:
Through the School Enterprise Challenge 2018, 69,736 young people (54.8% of whom were girls) from 74 countries improved their business and life skills. For instance, a survey with 554 teachers showed that in 2018, 95% of them saw an improvement in their students' communication skills, 92% saw an improvement in their students' teamwork skills, and 89% saw an increase in their students' business skills.

Triana, a student from Nicaragua, told us: "I feel empowered and happy that I am working on this idea. I know that when I leave high school I will have a project that I can continue working on that could help me support my family. Before I thought about leaving school and getting a job in the tourism industry, but now I'm thinking of setting up my own business and continuing with my studies."
The School Enterprise Challenge 2018 improved education in 1,081 schools in 74 countries. 917 teachers from low-resource schools benefited from intensive face-to-face training, and received tailored ongoing support, guidance and advice from our team to further their learning. A survey with 530 teachers revealed that our training and support is impacting education quality: 90% have used practice-based learning and found it to be effective with students, 89% are more confident in helping students to develop their business knowledge and soft skills, and 87% have shared new knowledge and teaching methods with others.

Mrs Busisiwe Mtshweni, a teacher from South Africa, reported to us that "participating in the School Enterprise Challenge has changed my teaching methods. I learned how to make my lessons creative and inspired my learners to become critical thinkers. My learners enjoy my lessons more and the pass rate has improved from an average of 62% to 71%!"

Steven, a teacher at Rwanda Martyr's Secondary School, enjoyed experiencing a new way of teaching through The School Enterprise Challenge: "Each week we receive the guides, I print them and hand them out to the students. They take it in turns to lead the colleagues through the exercises. One of my favourite times is the full team meetings, seeing the students come together and watching them make decisions about their school business. As a teacher it is refreshing being led by the students!"
Through the School Enterprise Challenge, Teach A Man To Fish was able to promote systemic change: we collaborated with 35 organisations and governments at district and national level in seven countries. In 2018, we had fantastic results building our relationships with Ministries of Education. In Paraguay, the Secretary for Education stated that our project delivered by Fundación Paraguaya 'created a space for students to develop their creativity and critical thinking skills, and improved their entrepreneurship skills and teamwork'.

One of the best results to come of our advocacy work from this project was that the Honduran Government wanted to design a project to pilot the School Enterprise Challenge within the curriculum in 2019/2020. Emilio López from The Ministry of Education in Honduras has extremely positive feedback on our programme: "The School Enterprise Challenge gives students more certainty entering the world of work, as they gain confidence to start their own employment. Teach A Man To Fish's educational resources and guidance are supporting students to develop entrepreneurship and problem-solving skills. This organisation has come to support us in Honduras so that we can solve the great challenge of youth unemployment".

Thank you so much to BOND for this award from our whole team, we are looking forward to increasing our impact every year, and to working with young entrepreneurs to drive positive change!