A little passion goes a long way...
As an entrepreneurial charity with a mission to inspire the next generation of leaders and job makers, we are always on the lookout for advice from industry experts to pass on to the 83,000 young people we work with. In December 2018 we headed to Greenwich Peninsula's SAMPLE Market in London to find out what advice three design entrepreneurs had for young people starting a business today.
---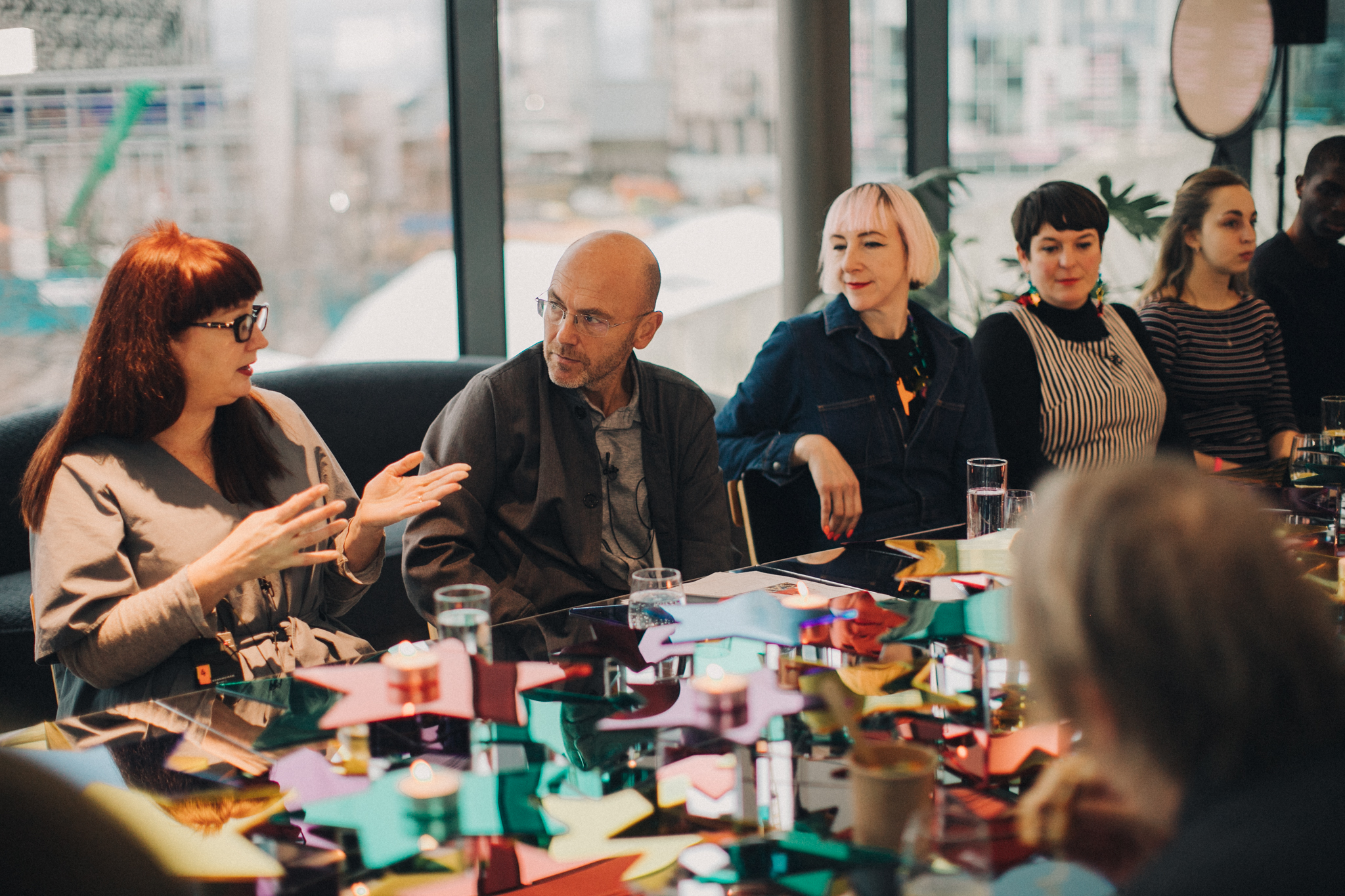 Tracey Neuls, Wayne Hemingway, Harriet Vine and Rosie Wolfenden reveal the secrets to their success. Photograph: Mykola Romanovsky
Meet The Makers
"Don't be afraid to start small" says Rosie Wolfenden, one half of the design duo behind the award-winning UK jewellery brand Tatty Devine. Rosie, alongside co-founder Harriet Vine, joined Wayne Hemingway of Hemingway Design, and shoe and accessory designer Tracey Neuls at SAMPLE Christmas' Festive Talk and Table to discuss how to ensure success as an independent creative.
Like many businesses founded by Teach A Man To Fish alumni, both Tatty Devine and Hemingway Design can trace the start of their career back to their stall at a market.
---
Hemingway Design
"It was £6 rent for the stall and we took £80 the first day. It just took off from there".
In 1982 Wayne and Gerardine Hemingway, who later went on to found the fashion brand Red or Dead, set up their first stand at Camden Market. 'Starved of affordable youth fashion', the pair moved to London to create clothes that combined Gerardine's seamstress skills with Wayne's love of vintage styling. At first, their business plan was just "making sure their stock was full". They didn't take out a loan or ask investors to cover their production costs. Neither of them came from particularly wealthy families who could support them if needed. Instead, the pair would source their materials from the market, often collecting the discarded trimmings of fabric rolls, and use them to create new clothes that they wanted to wear.
---

"Hemingway Design can trace the start of their career back to their stall at a market." Photographs: Wayne Hemingway
---
Gerardine took her sewing machine to the stall and made a capsule collection of eight pieces. However, it was through seeing how customers interacted with their clothes that she learnt what worked.
"If someone came in and it didn't quite fit, you'd offer to change it for them" says Gerardine. Their designs evolved with the customer, and it wasn't long before the pair got noticed. Their first major delivery was for 100 items to a company neither of them had heard of before: the department store Macy's in New York.
---
Tatty Devine

Harriet and Rosie from Tatty Devine also embarked on their business starting with a market stall. Soon after graduating from Chelsea School of Art, the pair stumbled across 14 bags full of fabric and leather samples outside a London furnishing store and decided to cut the sheets into wristbands. Pre-internet, it was through face to face interactions with customers, stylists, and other businesses at the market that they learnt what products people wanted to buy. "The market was a 360 degree crash course learning about business" says Harriet, with Rosie adding that "it's about making things that people want".
---
Tatty Devine Co-Founders Harriet Vine and Rosie Wolfenden. Photograph: Mykola Romanovsky
---
Tracey Neuls
"You do have to have a unique selling point, a raison d'être" says Wayne, "When you look at [the design of] Tracey Neuls' shoes, you know immediately that she stands for crafts".

Since the age of nine, Tracey has loved making shoes. She loved them so much that she even used to make her own shoes out of cereal boxes with toilet paper rolls for heels. But, due to a lack of footwear colleges in Canada or the States at the time, it wasn't until later in career that she was able to pursue this directly. Instead, Tracey created a career in the craft that was closest, fashion design, working for companies like Nike and Falke, with a keen interest in body shape. However, it is her background in fashion design has shaped how she designs shoes, and her passion for craftsmanship that has made her brand a success.
When Tracey opened her first shop in London, she wanted customers to feel as if they had come home and would bake bread at the back of the shop, explaining that "when you feel something, it makes a longer lasting purchase". It is down to this meeting of creativity and customer connection that Tracey has grown her business to encompass four boutiques in London, and has been described as "one of the top ten creatives and fashion influencers living in London" (TimeOut Magazine).
---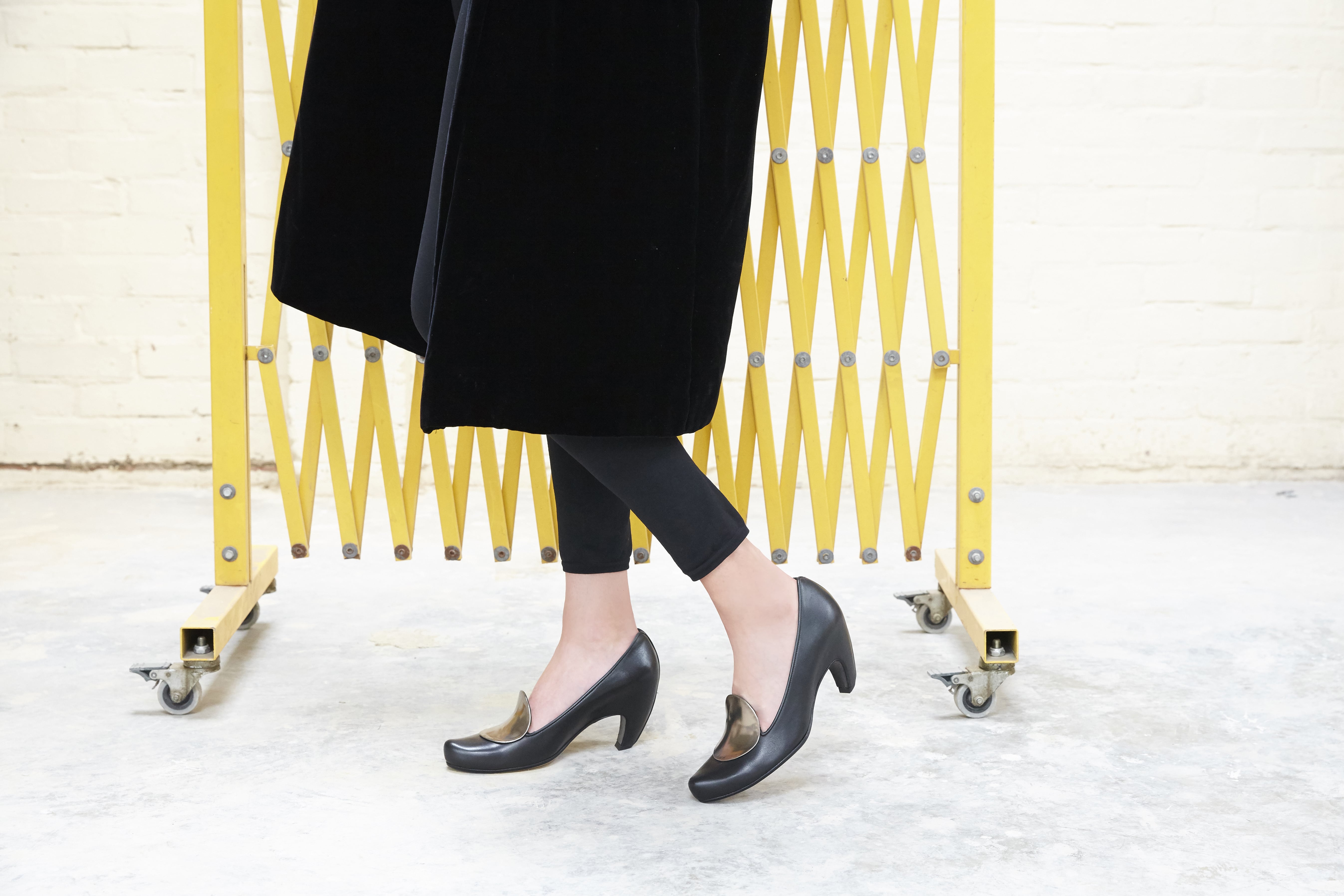 "A little passion goes a long way.". Photograph: Tracey Neuls
Creating connections
It's true that not every entrepreneur will have the chance for their business to be seen by one of the largest department stores in America, and not every market stall owner will have access to schools specializing in art or fashion design. However, what all of these success stories share is a passion for creativity, a reverence for the relationship between creator and customer, and the ability to take risks.
---
"We took risks, and that that was exciting. You can't make exciting things happen without taking risks". – Harriet Vine, Tatty Devine
---
Thank you again to SAMPLE Market for hosting Teach A Man To Fish at their Festive Talk and Table, and to Hemingway Design, Tatty Devine, and Tracey Neuls for sharing their stories that can inspire the next generation of independent designers, and young entrepreneurs.
If you would like to find out more about how you or your organisation can support the students we work with, please contact info@teachamantofish.org.uk