Finding local solutions to global challenges
For the past two years, young people around the globe have been uniting more than ever to bring attention to, and fight against, climate change. They have been demanding action, instead of empty promises, from governments and corporations to combat environmental degradation in a radical way. From Greta Thunberg to Autumn Peltier, Leah Namugerwa and Licypriya Kangujam (amongst many others), young people have been at the centre stage of climate activism. At the World Economic Forum in Davos in January, their voices pushing for change resonated, and climate change was put at the top of the agenda.


This dedication to climate action from children and teenagers can be seen at all levels, and while they unfortunately cannot all be invited to international forums, this does not stop individuals from doing their part to find solutions to this worldwide problem. Each year, Teach A Man To Fish is impressed with the wide range of environmentally conscious businesses that schools everywhere come up with as part of the School Enterprise Challenge, our flagship programme that gives young people in schools around the world the necessary mentoring and support to plan, set up and run a school business. We are inspired by the drive and dedication of individuals such as Asmi who are behind such enterprises.
LEARN MORE ABOUT THE SCHOOL ENTERPRISE CHALLENGE
BRINGING ABOUT CHANGE AT THE LOCAL LEVEL

Asmi is a fifteen-year-old student from Dwarka, a city in north-western India. She has been part of her school's student-led business, Sanjeevani Embracing Life, since 2016. This business's guiding principle is environmental sustainability, and it offers a wide range of eco-friendly products: potted plants, products made from waste paper, compost, organically-grown mushrooms and bird houses are some of the goods this enterprise sells to its customers. This school business responded to the concern of their community for environmental degradation, and has, throughout the years, expanded its offer of sustainable products.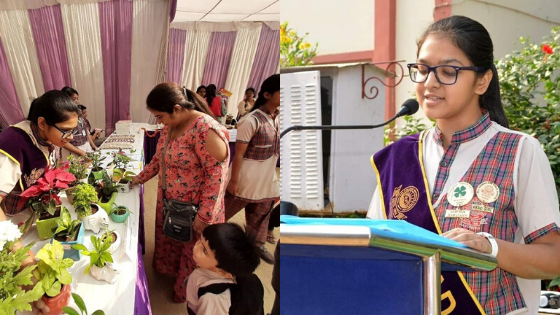 ASMI'S ROAD TO INDEPENDENT ENTREPRENEURSHIP
Her time as an active member of the school business inspired Asmi to launch an independent enterprise, Weaving Waste, on the 3rd October 2019. In this venture, Asmi combined her interests for sustainability and fashion, and has been making rugs and mats from recycled cloth. She procured the materials she needed both from cloth collections at school and by convincing boutiques to give her their discarded fabrics. The cloths she collected were sent to a recycling unit to be processed into rugs and foot mats, which she then stitches together using colourful laces.


Thus, she took the school business' drive to fight against environmental destruction, as well as the skills she gained through the School Enterprise Challenge, to become an independent businesswoman. In her own words, Asmi explains that "while working in my enterprise, I have undergone metamorphosis and evolved as a new individual well equipped with the 21st century skills". By combining creativity and environmental consciousness, she has managed to turn her business into a success, making a profit of 6,635 INR (USD $93) after running it for 3 months.

A FUTURE FULL OF GREEN OPPORTUNITIES
Perhaps the biggest benefit Asmi has received both from her time at Sanjeevani Embracing Life and working on her own business is a newly-found confidence. While she used to be an introverted student who suffered from stage fright, she has developed her leadership and communication skills, becoming an outgoing and self-assured individual. She says: "I want to thank the School Enterprise Challenge for providing this wonderful opportunity which enabled me to realise my real self. Now I am more confident and secure about my future". She has found a sense of freedom in creating her own business, and her dedication to green business initiatives makes her an ambitious ecopreneur who will certainly continue to take on the challenges of sustainable development.