The Saville Foundation Pan-African Awards for Entrepreneurship in Education
The Pan-African Awards for Entrepreneurship in Education celebrates organisations with an entrepreneurial, sustainable and innovative approach to education. Apply by August 19th!
Learn more
How to Apply
En français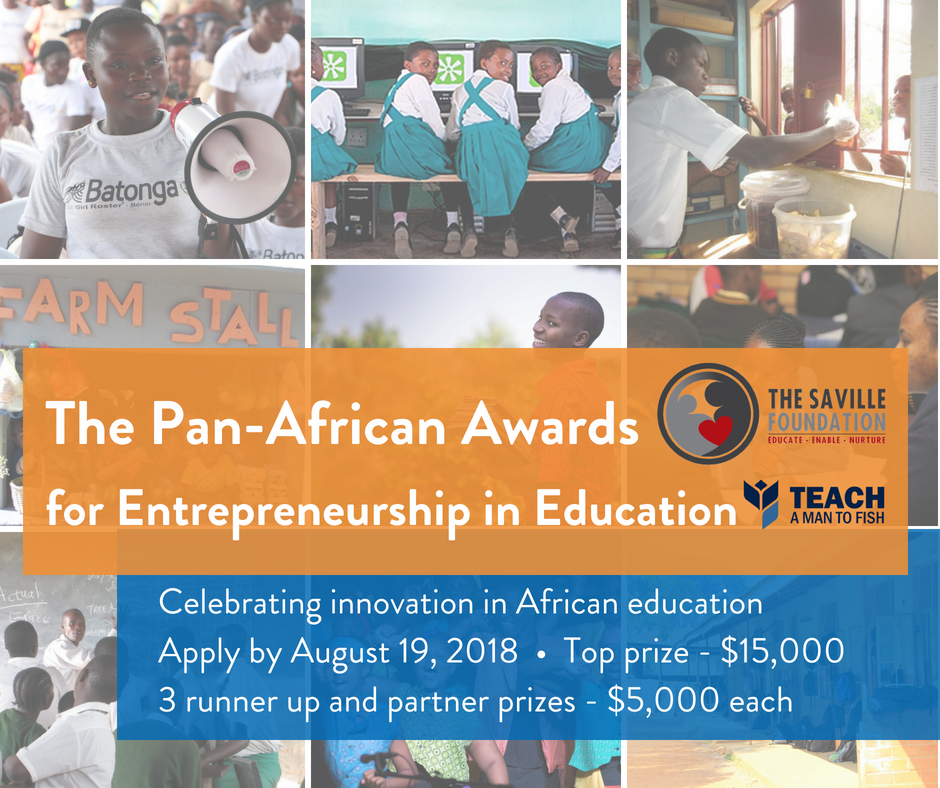 Deadline extended, now accepting entries until August 19 2018 - Winners will be announced end of September 2018
Throughout Africa, the continent home to the largest youth population in the world, entrepreneurship has proven to be a successful practice for funding education while also giving students and out-of-school youth a platform for gaining real-life professional experience.
Now, organisations providing young people with hands-on business experience or using community-based business solutions to fund education have the chance to win $15,000 USD for their work through the Pan-African Awards for Enterprise in Education.

Applications are now open. To get your application ready:
Top Prize - $15,000
2 Runner Up Prizes - $5,000
Future Partner Prize - $5,000
All winners will also win a fully funded spot for one delegate at our annual Education That Pays conference.
The main features of projects and programmes we award are:
Entrepreneurial - tackling problems in education by teaching, training and empowering young people through hands-on entrepreneurial experience or generating income to fund education.
Sustainable - generates funding beyond donations and subsidies as a primary source of income, able to retain and grow participants and promotes environmental protection.
Create Impact - demonstrate measurable results for educational achievement and economic outcomes for participants and the wider community.
Experiential - provide students with hands-on experience in a live environment.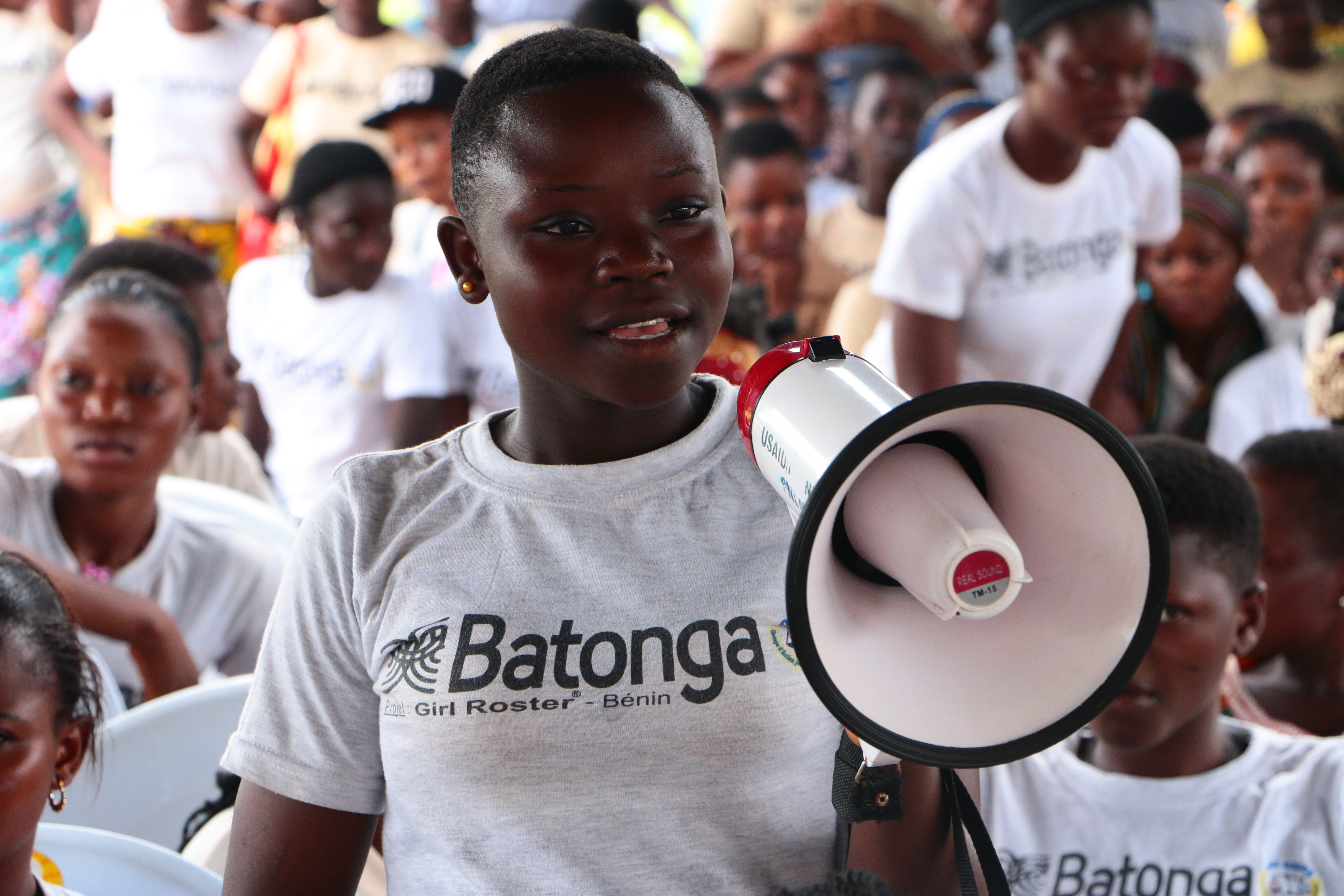 The Batonga Foundation, winner of the first place prize for their Girls Club programme
The Batonga Foundation was founded in 2006 by Grammy Award-winning singer and UNICEF International Goodwill Ambassador, Angelique Kidjo. Batonga's "Girls' Club" programme, which started last year, helps female youth develop entrepreneurial and life skills through business start-up mentorship, training and a financial literacy curriculum.

"This award means that Batonga can continue to go beyond the paved road, reach more vulnerable girls, serve more distant villages and create more safe spaces for girls and young women to learn and grow," says Kidjo.
---
On winning the first place prize:

"The funds Batonga received are being used to expand the reach of Batonga's programs in 2018. Currently Batonga's programs reach just over 1600 girls and young women between the ages of 15 and 24. However in order to make a lasting and sustainable impact on girls' lives and on their communities, we have realized that 15 years old is too late to be reaching girls for the first time with these crucial life and financial literacy skills. As such the Batonga foundation will be using these funds to expand the reach of our programs to include girls ages 10 to 14 throughout all 18 villages in which Batonga currently works. We estimate this will increase the reach of our programs by as much as 50% this year."
Since 2012, Dare to Innovate has trained over 4,000 young people through intensive entrepreneurship fellowships and training programmes across West Africa. They have also fostered 78 young African entrepreneurs who have gone on to create over 270 jobs for their peers.
---
On winning a runner-up prize and sending a Delegate to Education That Pays 2017:
"The prize funds helped us reinforce our staff capacity by allowing us to invest in training that would increase their competencies, so that they are able to deliver higher quality business training. We were also able to invest in the materials and supplies needed to effectively run our business coaching and Social Entrepreneurship Business Pitch Competition."

"Sending a delegate to the 2017 Education That Pays Conference increased the visibility and credibility of our organisation. The delegate was able to network with other conference attendees and build a repertoire of new organisational partners. In addition, attending the event also allowed us to raise general awareness around our structure and the work that we do."
Livingstone Tanzania Trust
UK-based Livingstone Tanzania Trust partners with local organisations to deliver agricultural business training to students while they are still in primary school.

---
On the impact of integrating entrepreneurship into education:
"Because the impacts are vital to the running of the school, the commitment to the project is very real. The farm then becomes a demonstration centre for the community to come and learn from and ideally replicate. Smallholder farmers live in poverty and are unlikely to change their farming systems unless they can see for themselves the impact, so having a facility within the community that does that is a fantastic way of bringing about change organically, whilst maintaining pride and dignity."
IDEA4Africa was chosen for the Future Partner Prize and will be working alongside our School Enterprise Challenge team to bring our programmes to more schools in Rwanda.

Teach A Man To Fish and IDEA4Africa, together, have trained 15 teachers in Rwanda to implement the School Enterprise Challenge in their classrooms with plans to train an additional 35 by 2020.
---
On partnering with Teach A Man To Fish:
"IDEA4Africa is honoured to be recognised by Teach a Man to Fish with this award. We are both focused on helping young people see firsthand the power of entrepreneurship and I know that working together we can have an even greater impact in Rwanda and wherever we do work." - Dr Dennis Hanno, Founder and President of IDEA4Africa