What is the Enterprise Adventure?
The Enterprise Adventure is a mobile app aimed at teenagers around the world who want to learn about business and have a positive impact on their local community. We created this new programme in response to the COVID-19 pandemic, to ensure that we continue reaching young people. This support gives them a chance to continue learning and building skills, confidence and aspirations to fulfil their potential in school, work and life during school closures.
Teenagers can register for the app for free here. Once they have registered in the app, they are guided through a series of 10 real-world missions that will:
Help them identify the problems their community is facing
Support them to plan a business that solves those problems!
Lead them to reflect on what they have achieved and learned through the programme.

Develop superpowers: these are the abilities such as creativity and problem-solving which young people have and use every day: at home, in school, with their friends and family. And one day they will be very useful in work!

The whole community benefits: in the Enterprise Adventure young people will not just be planning any kind of business. They are encouraged to set up a 'Social Enterprise' that not only makes a profit but also changes the world for the better!

Participants get prizes: check out the prize list available on the Enterprise Adventure website.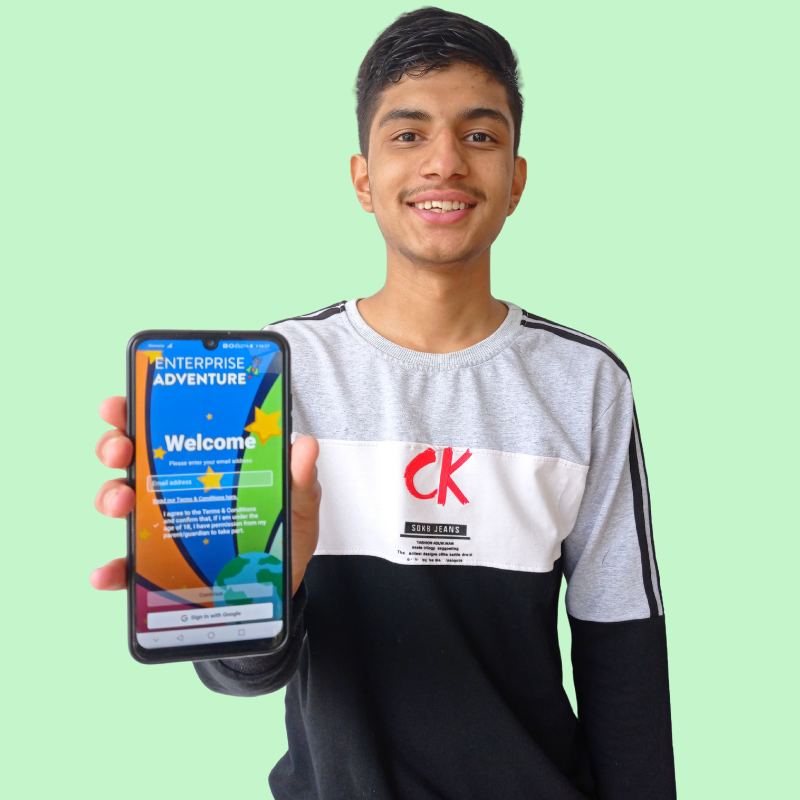 Sharad, an Enterprise Adventure participant from Nepal.
"The Enterprise Adventure allows me to analyse, develop and enhance my skills while nurturing my innate inclination towards entrepreneurship and helping worldwide communities."
- Charvi, an Enterprise Adventure participant from India
Enterprise Adventure Enquiries
You can check the list of Frequently Asked Questions available on the Enterprise Adventure website before contacting the team directly.
If your question is not there, you can reach them via:
Email: info@enterpriseadventure.org
Phone: +44 7722 481841
Note: Teach A Man To Fish is not a grant-making foundation and is unable to provide funding for schools or individuals.